Our Team
Our Surgeons
Dr Will Bryceson
MBBS FRACS (Orth) Orthopaedic Surgeon
Dr Will Bryceson is an internationally trained surgeon who specialises in surgery of the Shoulder, Knee and Foot & Ankle.
After completing a medical degree through the University of Newcastle-upon-Tyne, UK in 1996, Dr Bryceson left for Australia and spent the early part of his medical training in country Queensland where he gained an affinity for all things Australian and developed his interest in Orthopaedic surgery. He completed Orthopaedic training in Western Australia and moved to Victoria in 2008 to undertake a fellowship in foot and ankle surgery focussing on sports and arthroscopic surgery of the hindfoot and modern techniques in forefoot surgery. Will then spent further time both in Australia and Europe, gaining experience in arthroscopic and reconstructive Shoulder and Knee surgery.
He returned to Queensland in 2009 and holds a Consultant position at Cairns Hospital where he is actively involved in teaching Registrars and Medical Students.
Dr Bryceson is a member of the following associations:
Australian Orthopaedic Association
Australian Medical Association
International Society of Arthroscopy, Knee Surgery and Orthopaedic Sports Medicine
Australian Orthopaedic Foot and Ankle Society
Referrals via: Healthlink - bryceson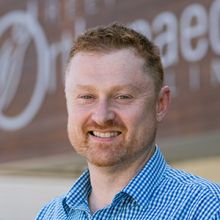 Dr Sam McKewin
B.Sc(Med) MBBS FRACS (Orth) Orthopaedic Surgeon
Dr Sam McKewin is an Australian fellowship trained orthopaedic surgeon. He graduated from the University of New South Wales in 1999 after which he began work at The Canberra Hospital as an Intern and Resident. He subsequently moved to Queensland in 2003 to commence work as an orthopaedic house officer at the Princess Alexandra Hospital in Brisbane.
Dr McKewin commenced specialist training in Orthopaedic Surgery in 2005. He spent his first year of training at the Cairns Base Hospital. After successfully completing his orthopaedic training and obtaining membership of the Royal Australasian College of Surgeons in 2008 he moved to Cairns to commence working as a staff specialist in orthopaedic surgery in 2009. Dr Mckewin commenced private practice the same year and in 2010 joined with Dr William Bryceson to form the Reef Orthopaedic Clinic.
Dr McKewin's interests are in Shoulder, Hip and Knee surgery. Dr Mckewin is proficient in arthroscopic (keyhole) surgery and arthroplasty (Joint replacement including revision) surgery of the hip, knee and shoulder.
Procedures commonly performed by Dr Mckewin are
Shoulder arthroscopy
repair of rotator cuff tears
repair of labrum tears (stabilisation)
arthroscopic treatment of biceps disorders
treatment of recalcitrant adhesive capsulitis
bursitis, calcific tendonitis , ACJ osteoarthritis, acromioplasty, coracoplasty
Hip arthroscopy
removal of cam and pincer lesions ( femoroacetbular impingement)
repair of labrum tears
treatment of ligamentum teres tears
removal of loose bodies
treatment of painful snapping hip
repair of gluteal tendon tears
treatment of trochanteric bursitis
Knee arthroscopy
treatment of meniscus tears
removal of loose bodies
ACL reconstruction
patella stabilisation
synovectomy 
Arthroplasty ( replacement) surgery
shoulder 
conventional, reverse, resurfacing
knee 
total arthroplasty (whole)
unicompartmental (half knee)
patellofemoral (kneecap)
hip 
total arthroplasty
Referrals via: Healthlink - smckewin
Dr Arvind Puri
MBBS FRCS(Ireland) FRACS (Orth) Orthopaedic Surgeon
Dr Arvind Puri has taken up a Orthopaedic Staff Specialist post at the Cairns Hospital since January 2014.
His surgical training commenced in Ireland where, having completed the Basic Surgical Scheme, became a Fellow or the Royal College of Surgeons. He then went on to New Zealand with family, where he was selected into the Advanced Orthopaedic Training Scheme and upon completion successfully became a Fellow of the Royal Australian College of Surgeons.
Melbourne was the next stop, with a year spent undergoing Foot and Ankle Arthoplasty fellowships.
It was Dr Puri's work as a Staff Specialist in Orthopaedics at the Cairns Hospital in 2012 that made him realise that Cairns was the place to be. He moved to Cairns along with his family in 2014.
Dr Puri has interests in lower limb reconstruction, general trauma to the upper and lower limbs and especially foot and ankle problems.
Referrals via: Medical Objects - Dr Puri - 439629NL